Oh Baby!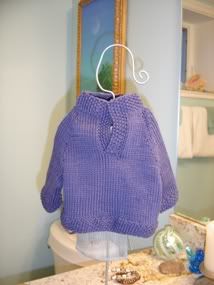 click on photo for larger viewclick on photo for larger view
I finished this baby sweater for a friend and found a wire body figure at the house I'm watching in which to model the sweater. I think this sweater turned out so very cute.
Yarn: Cotton Fleece -- Color CW-550 Mariner Blue
Gauge: 5 stitches per inch
Pattern:
Last Minute Knitted Gifts -- Child's Placket Sweater
Things I would do differently: Nothing, this was a very nice and fast sweater to make.