Warm Leg Warmers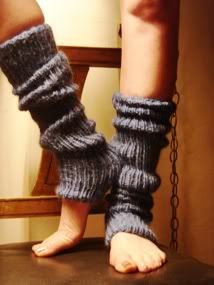 click on photo for larger view
During Mot's Finals, she avoided studying by reading some of my knitting books. After looking at them for awhile, she announced that she wanted me to make her leg warmers (if it wasn't too much trouble). Since the pattern was from "
Last Minute Knitted Gifts
", I knew they wouldn't take too long and so I quickly ran off to the yarn store for supplies.
This weekend, I finished the leg warmers and Mot agreed to model them for me. She even called me late last night to thank me for keeping her legs warm. Mot lives in a drafty house and anything that keeps you warmer is a great treat.
Project Details
Yarn: Cascade 220 and Madil Kid Seta
Gauge: Spot On!
Pattern: Easy Leg Warmers from Last Minute Knitted Gifts
Things I would do differently: See if the pattern has any corrections before starting!